Trusted by Mums, Safe for Babies' Skin –The 'Baby Carrie Way'!
Parents place utmost priority on skin protection for their newborn. They realise that baby's skin composition is certainly tender and thus needs extra delicate and conscientious care. They seek quality baby toiletries which are gentle & safe to care and protect their baby's delicate skin.
Baby Carrie Head-To-Toe Gentle Wash is an ultra-gentle formula, suitable & safe for newborns' baby skin. It contains 100% organic plant actives, organic almond oil and wheat germ oil, which is rich in Vitamin E. Baby Carrie softens baby's skin and acts as an effective antioxidant. Recognising the needs of a newborn baby's skin, which is thinner than adult's skin, babies require a specially formulated baby shower to ensure their delicate skin is well protected.

Baby Carrie Head-To-Toe Gentle Wash causes no tears, is free from soap, paraben, MIT, phthalates, artificial colourants and sulphate while maintaining a balanced pH, thus it is perfect for newborns. Being both dermatologically and ophthalmologist tested, Baby Carrie is also hypoallergenic, ideal for newborn's sensitive skin.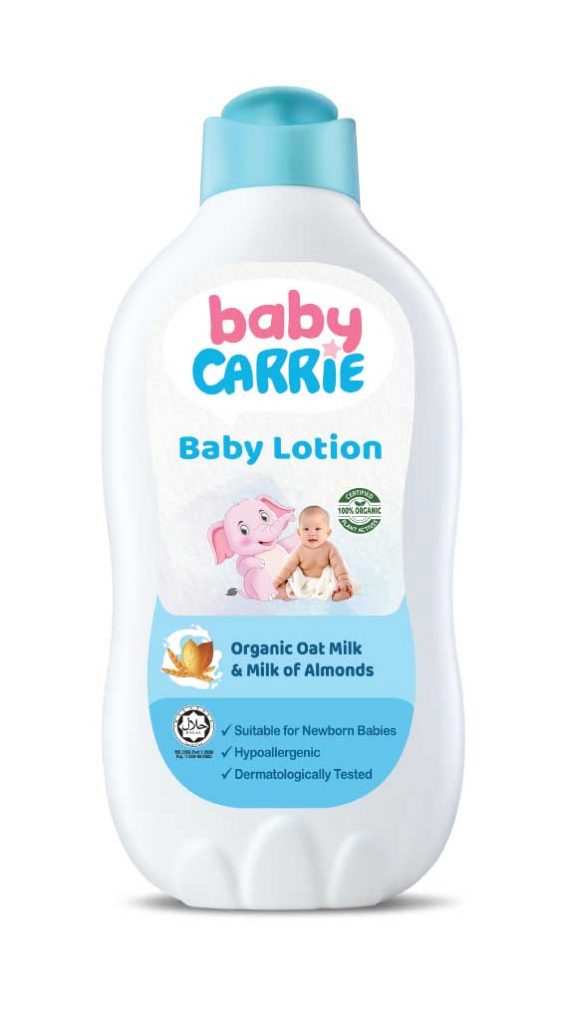 Baby Carrie Lotion, which contains also 100% organic plant actives, is specially formulated for newborns with quick absorption and 48-hour moisturization benefits. Non-oily with a 'light feel' when applied, this lotion incorporates glycerine to soothe and hydrate baby's skin.

This ultra-gentle efficacious baby lotion contains Organic Oat Milk & Almond Milk which nourishes and moisturizes baby's skin, acting as an antioxidant to protect skin with Vitamin E.

Baby Carrie Lotion is hypoallergenic and dermatologically tested. Plus, this lotion maintains skin's pH balance, has no added phthalates, alcohol, parabens, mineral oil, MIT or artificial colourants. Ideal for newborn's sensitive skin – just apply and gently massage evenly onto your newborn's soft & delicate skin until fully absorbed.
Baby Carrie has recently won the BabyTalk Readers' Choice Award 2020 for two categories; Baby Lotion and Baby Head-to-Toe.