Continually Pampering Babies With Delicate Care
For nearly 127 years, Johnson's® mission has been to create the gentlest baby products in the world. Products so mild, they can be used for every age and stage of a baby's life. New mothers have trusted Johnson's® products for more than a hundred years to provide the purest, gentlest and mildest care for their babies. We at Johnson's® are committed to working with moms, healthcare experts and scientists to ensure our products continue achieving the highest standards in safety, quality and care.

Johnson's® Baby Shampoo has been specially designed to gently cleanse both baby's fine hair and scalp. Not only is the cleansing gentle, but the lathering and rinsing off are also easy. The result – baby's hair is clean, soft, shiny and easily manageable with a fresh scent! Moreover, this baby shampoo contains NO parabens, phthalates, sulphates or dyes.
Johnson's® Baby Shampoo has been paediatrician and dermatologist-tested and is clinically proven to be hypoallergenic – with an ever gentle formulation where naturally-derived ingredients are prioritised. In addition, its 'No More Tears' formula creates an enjoyable tear-free bath time experience, the shampoo being gentle to baby's eyes just like pure water!
---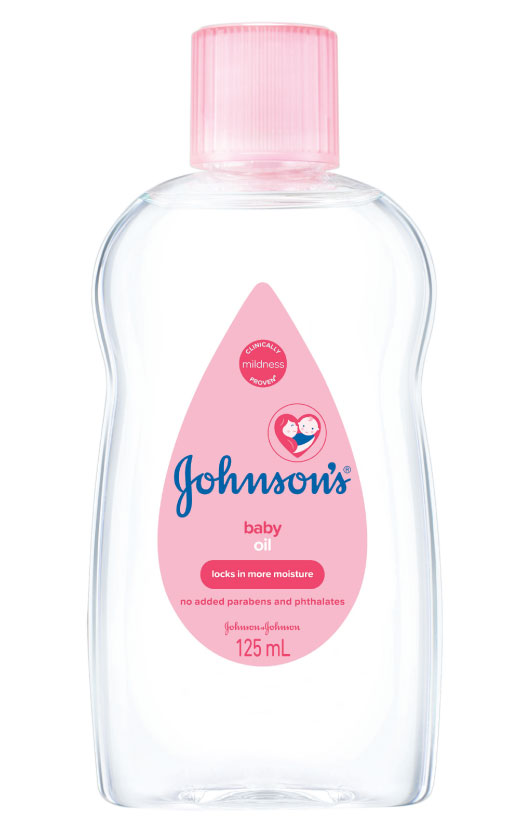 As baby's skin needs to be constantly cared for, Johnson's® Baby Oil helps to prevent excess moisture loss by locking in up to ten times more moisture on wet skin, more than an ordinary lotion can perform on dry skin, with added attributes of being mild, gentle and pure. This baby oil is so easy to spread, serving as a warm, protective layer for baby's skin to become silky soft and smooth. Johnson's® Baby Oil, made from pure mineral oil, is also perfect for a gentle baby massage, making baby's skin so supple. Applying this oil also fosters a loving bond with your precious baby. Johnson's® extensive experience with babies is evident from its 127 years' expertise in baby oils and baby care range of products. Johnson's® Baby Oil is pH balanced and has been tested with paediatricians. In essence, Johnson's® mild and gentle products work splendidly not just for babies, but for adults, too.
---
Johnson's® CottonTouch™ Top-To-Toe™ Bath (for hair and body) is formulated to be ultra light and gentle towards a newborn's sensitive skin. At Johnson's® we understand that a baby's skin is 30% thinner than that of adults and as such, it requires ultra gentle and delicate care. Newborn skin also absorbs and yet loses moisture more quickly compared to adult skin, thus it needs superior moisturization. Johnson's® CottonTouch™ Top-To-Toe™ Bath is blended with 100% natural cotton and is especially designed to cater to a newborn's sensitive skin* (*vs. adult skin). Bathing your baby with this Johnson's® product leaves the skin clean, soft and supple with the advantage of being clinically proven for newborns. So easy to rinse off, it is also residue-free! Ideal for hair and body, Johnson's® CottonTouch™ Top-To-Toe™ Bath is pH balanced, hypoallergenic and free from parabens, phthalates and dyes. It has also been tested with paediatricians.
---
Johnson's® Blossoms Baby Powder offers long-lasting personal care protection to leave baby's skin feeling silky smooth and delightfully fragrant. This mild and gentle powder effectively absorbs excess moisture to leave baby skin comfortably dry. This baby powder can be safely used daily on a baby's skin as it has been made using US Pharmacopeial (USP) grade talc in meeting the highest quality, purity and compliance standards. At Johnson's®, our clinically-tested talc is painstakingly selected, processed and tested to ensure that it is asbestos-free. It is recommended for Johnson's® Baby Powder to be used after a regime of Johnson's® Baby Bath, Johnson's® Baby Oil and Johnson's® Baby Lotion.
Johnson's® Baby products have recently won the BabyTalk Readers' Choice Awards for the categories of Baby Shampoo, Baby Oil, Newborn Baby Wash and Baby Powder.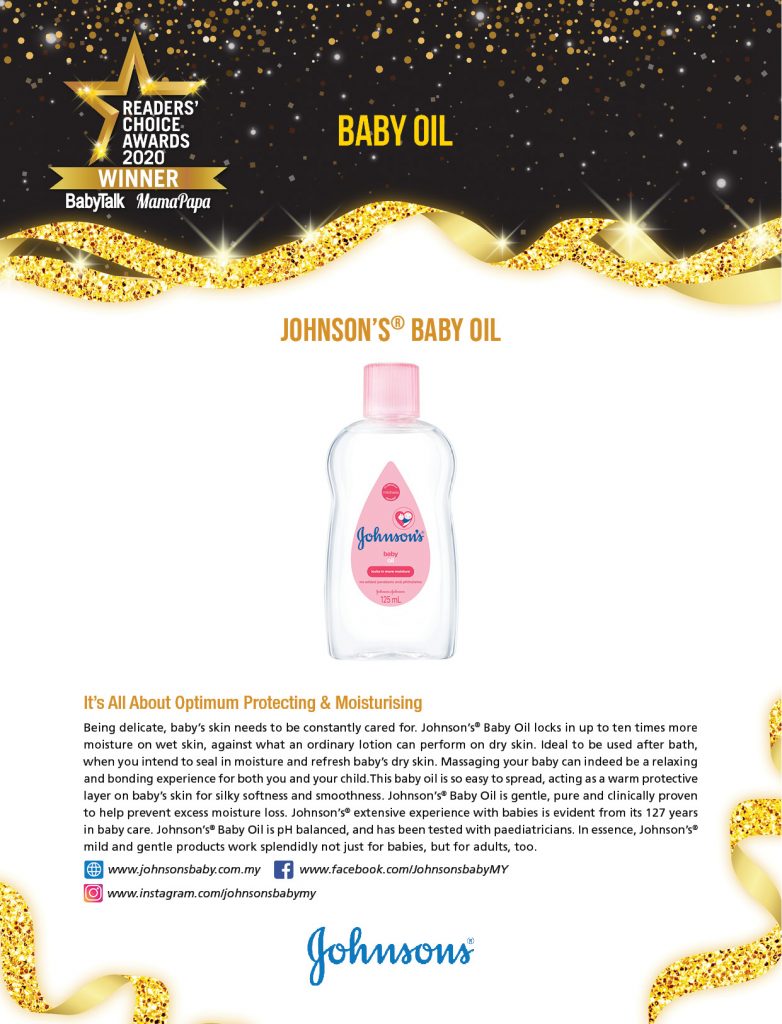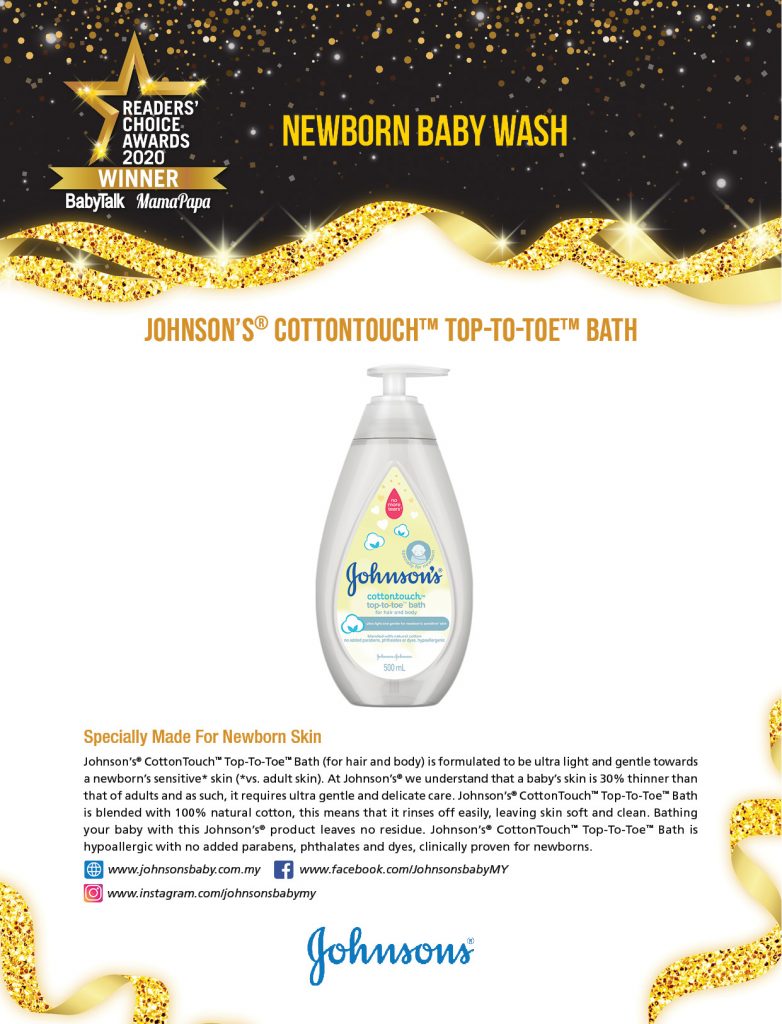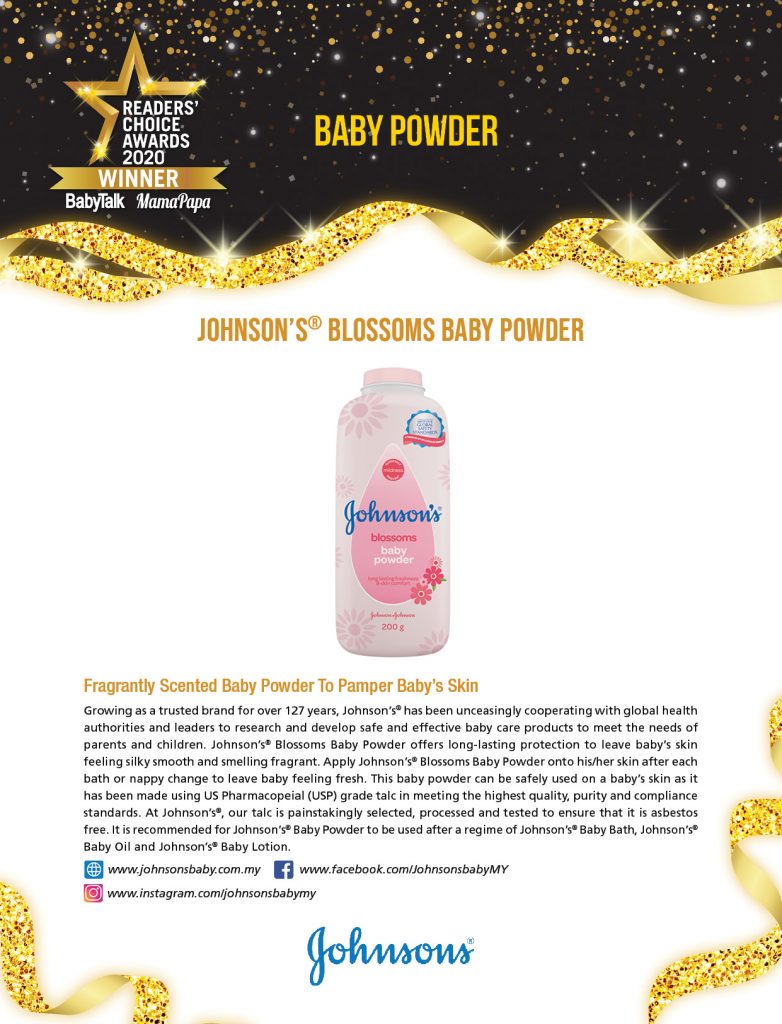 For more details, please visit the website,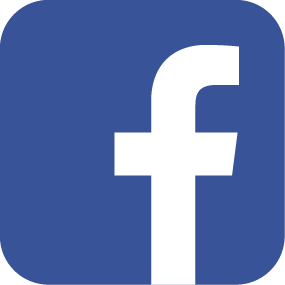 Facebook and
 Instagram