Probiotic 40 Billion CFU & Eagle Vision Formula
Gain From The Probiotics Advantage
If you are seeking superior probiotics complete with time release plus maximum effectiveness, look no further than Probiotics 40 Billion CFU from Nano Singapore! This amazing product is a gluten dairy-free probiotic dietary supplement suitable for pregnant ladies. Regular intake lessens the presence of bad bacteria, while supporting against gas, bloating and constipation, thereby contributing towards your digestive health. Because we believe that a 'healthy gut is a happy gut'. In addition, daily intake of probiotics provides adequate immune system support, boosts nutrient absorption besides promoting healthy cholesterol.

Research findings reveal that most probiotics perish when facing stomach acids/bile fluids and do not get to the small intestine. Probiotics 40 Billion CFU veggie caps have the distinction of being able to survive the attack of stomach acids to reach one's gut and boost its health. Potency is also guaranteed for this supplement until the expiry date stipulated on the packaging. You can be assured that our probiotic strains will be alive and operative until that date. No refrigeration is required.
Made with Patented Maktrek Delivery System Technology, this supplement is 100% allergen-free, comprising non-GMO natural and high-grade raw ingredients which are routinely-tested for purity and quality. Moreover, we also test our product for solvent residues, heavy metals, pesticides and toxins. Probiotic 40 Billion CFU is made in USA under license and supervision of Nano Singapore. The manufacturing process utilises state-of-the-art facilities administered under stringent quality control cGMP (Current Good Manufacturing Practices) standards.
In addition to our supplements intake, we would recommend that consumers should practise a healthy lifestyle guided by a healthcare provider. All towards ensuring that the positive effects of Probiotics are maximised in promoting vibrant digestion, weight balance, energetic vitality and immunity and overall wellbeing.
Probiotic 40 Billion CFU has recently won the BabyTalk Readers' Choice Award 2020 for the category of Probiotics for Pregnancy.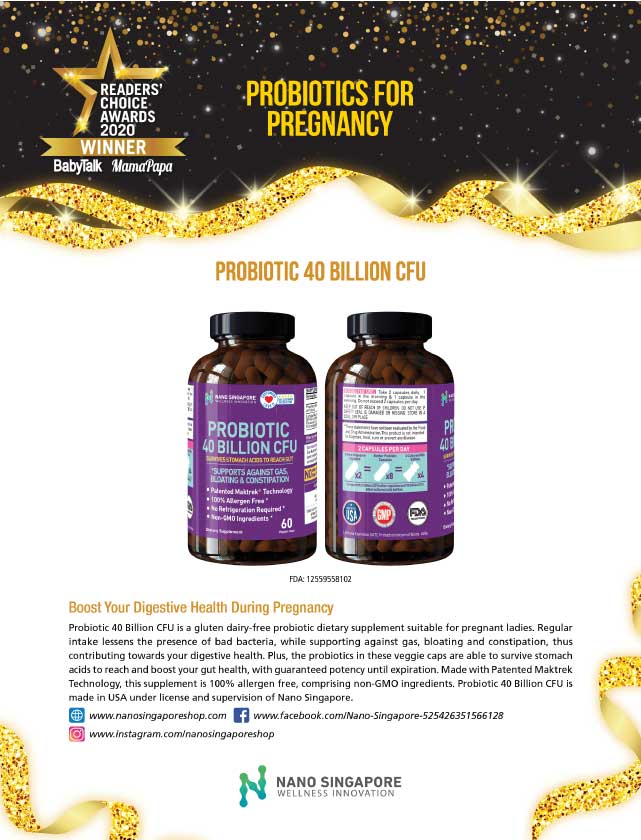 Ensuring Your Clearest Vision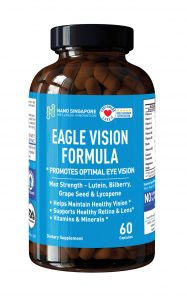 When it comes to promoting optimal vision, you may wish to review the multiple benefits showcased in Eagle Vision Formula by Nano Singapore. Its Max Strength Formula features 24 Mineral Food Blends, 11 powerful ingredients, including Lutein, Bilberry, Grape Seed and Lycopene, Vitamins, Biotin and Calcium, combining for vision enhancement and preservation. This is a 100% safe supplement to be taken with a healthy, nutritional and well-balanced diet program. Regular intake will help to support macular health and sustain healthy retina and lens.
Our capsules are US-made, where the manufacturing process utilises state-of-the-art FDA registered facilities undertaken under stringent quality control GMP (Good Manufacturing Practices) standards. Eagle Vision capsules are NOT chemically coated with HPMC, Silicon Dioxide or Saccharide in efforts to extend their hardness or storage life. Moreover, we DO NOT incorporate artificial sweetener or colour additives, GMOs, soy, wheat, gluten, synthetic food dyes or flavouring agents to boost the taste of our supplements.
Nano Singapore has emerged as Singapore's No. 1 multivitamin brand with its valuable insights into health and wellness, in the promotion and preservation of overall wellbeing. Towards this end, we ensure that our products are All Natural, without any dessicants or moisture absorbers.
Eagle Vision Formula has recently won the BabyTalk Readers' Choice Award 2020 for the category of Family Vision Care Supplements.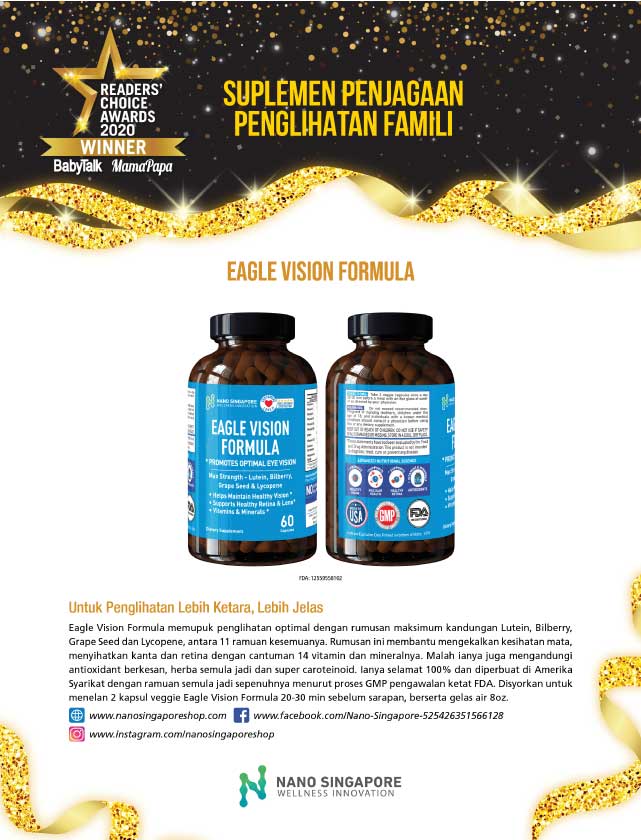 For more info, visit their nanosingaporeshop.com